10 Best Korean Romantic Drama/ Web Series on Netflix
Top 10 Hindi dubbed Romantic Korean dramas on Netflix that you shouldn't miss if you're a K-Drama fan
South Korean TV series and dramas are very popular and loved by the audience all over the world because of their unique stories, action, romance and moreover their acting. There is no doubt that Korean romantic drama are now getting lots of attention from Indian viewers.
Well, there is a never ending list of K-dramas available over the internet on Netflix, but finding the best one from it is a tedious task. But don't worry, here we have picked the top Romantic Korean web dramas to get started your K-dramas journey.
Top 10 Korean Romantic Drama/Web Series on Netflix
At Superfilmi, we've curated a list of top 10 Korean romantic TV series that you can watch with your loved ones.
Either you'll fall in love with these romantic Korean series or you will end up remembering your forgotten love.
This list contains top 10 Korean love story web dramas in English, Korean (with English subtitles) and Hindi Languages. Although this list included most of the Korean dramas in Hindi dubbed.
Top 10 Korean Romantic Drama/Web Series List Hindi dubbed on Netflix and MX Player
10. Nevertheless, (2021)
Episodes: 10
Seasons: 1
IMDb Rating: 7,2/10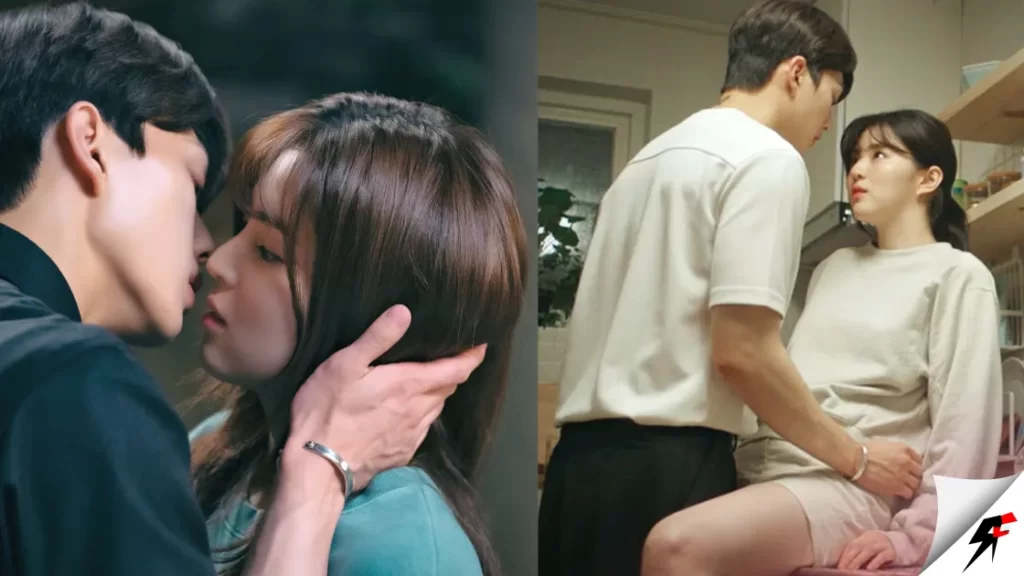 This is a story of a romance between a man, Park Jae-Eon (Song Kang) and a woman, Yoo Na-Bi (Han So-Hee). Park Jae-Eon likes to flirt, but not interested in relationships. On the other hand, Yoo Na-Bi wants to date but does not believe in destiny and love any more because of her bitter experience with her first boyfriend.
But when she meets Jae Eon, he has a magical effect on her. Due to which, she has develops feelings for him.
9. Romance is a Bonus Book (2019)
Episodes: 16
Seasons: 1
IMDb Rating: 8.0/10
This is a romantic Korean web series based on the two characters, Cha Eun-Ho (Lee Jong-Suk) and Kang Dan-Yi (Lee Na-Young).
Cha Eun-Ho is a handsome and genius writer and the youngest chief editor at a publishing house. While Kang Dan-Yi was once a popular copywriter, but now she is not. Now she is a divorced single mother and unemployed. She is struggling to find a job, but because of her popularity and impressive career, she is unable to find a good job.
Finally, after lying about her background, she got a temporary job in the same publishing company in which Cha Eun Ho is the chief editor. Due to their involvement in each other's lives becomes more frequent, a love story begins to blossom.
8. Hometown Cha-Cha-Cha (2021)
Episodes: 16
Seasons: 1
IMDb Rating: 8.6/10
This is a Korean love story of a beautiful female dentist, Yoon Hye-Jin (Shin Min-A) and an unemployed but helping man, Hong Doo Sik (Kim Sun-Ho) set in a seashore village of Gongjin.
The dentist moves to the seashore village of Gongjin where she meets a handsome man, Hong Du Sik. She becomes curious about him. Hong Du is also known as the Chief Hong by the local residents while he is unemployed, but he always seems busy as he is a master in all kinds of trades and odd jobs. In case, someone requires any kind of help, Chief Hong will be the first to help.
You've to watch this awesome Korean web series to know how they fell in love with each other?
7. I'm not a robot (2017)
Episodes: 16
Seasons: 1
IMDb Rating: 8.0/10
This is a Korean romantic comedy series have some science fiction in it. This is a story of a rich businessman Min-Kyu Kyun who is the biggest shareholder in a company, KM Financial. However, he is suffering from a rare disease and allergies in which he develops rashes on his body and also faces breathing problem after coming in the human contact. Due to this, he started living in a shell and isolation.
KM Financial owns a robotic division which is working on a project named Aji-3 created by the Santa Maria robotic team headed by inventor of Aji-3, Hong Baek Gyun, When Kim Min Kyun wants to test the robot, due to some technical error, robot's battery malfunction before appearing in front of him.
Then the inventor begs to a girl named Jo Ji Ah to pretend to be the Aji-3 robot. But she becomes the closest thing to Min Kyun and starts to fall in love with him.
Watch I'm Not a Robot Korean Drama in Hindi for Free Online on Netflix to know whether Min Kyu finds her reality, and what will happen to his allergies if a human pretends to be a robot and stays with him?
6. My Love From The Star (2013)
Episodes: 21
Seasons: 1
IMDb Rating: 8.2/10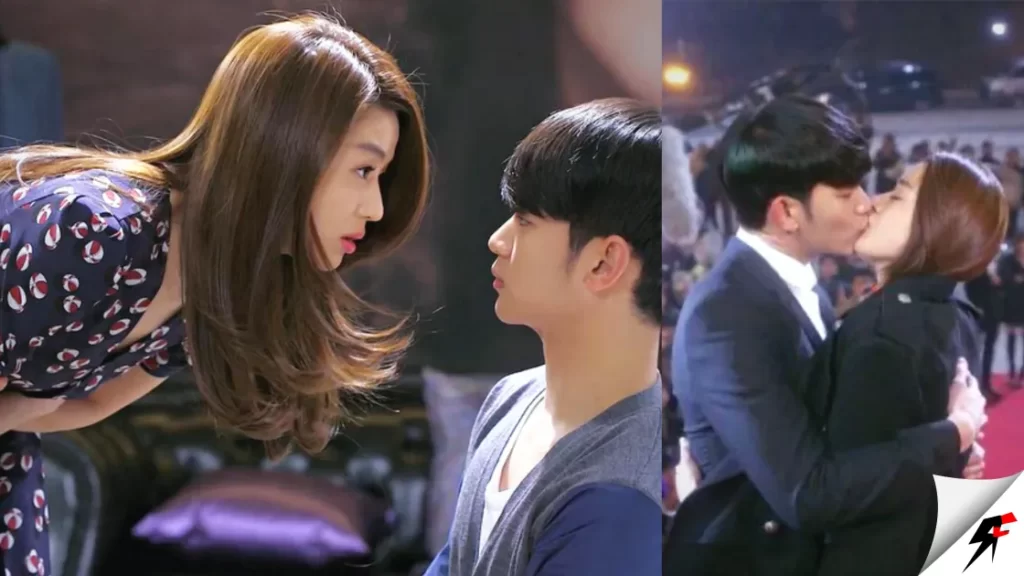 This is a Korean romantic drama web series in which an alien named Do Min Joon arrived on Earth 400 years ago during the Joseon Dynasty. He has an almost perfect appearance, he possesses enhanced physical abilities, such as his hearing, vision, and speed. A few days later, he finds out he has three months left on Earth, at which point he meets biggest Hallyu star of Korea, Cheon Song Yi.
Despite his cynical perspective on humans, Do Min-Joon falls in love with actress Cheon Song-Yi. It will be interesting to know what happens next after watching a few episodes of the series.
5. Descendants of the Sun (2016)
Episodes: 16
Seasons: 1
IMDb Rating: 8.3/10
In this beautiful K-drama, a love story develops between a young surgeon, Kang Mo Yeon, at Haesung Hospital in Seoul and Yoo Shi Jin, a captain of the South Korean Special forces. They first met at the hospital when the captain brings an injured thief to the hospital, then he immediately falls in love for her.
They begin to date, but due to their jobs, their dates don't go well. Very soon they realize that they have different views on human life, so they decide to end their relationship.
After some time, they met again in the middle of a war and deadly dangers in the country of Uruk. The story of this Korean romantic web drama will tell how they stand up against all odds and become close during the time of war.
Explore some related posts:
4. The King: Eternal Monarch (2020)
Episodes: 16
Seasons: 1
IMDb Rating: 8.3/10
The story of the show is based on the Kingdom of Korea, Lee Gon, the Emperor who is able to access an alternate world.
He encounters Detective Jung Tae-eul, who can be identified by his identity card he gathered at the most pivotal time of his youth that was the time of his father's assassination. Lee Lim, (Lee Gon's half-uncle) who assassinated the previous king, is hiding and is building armies while moving between the two worlds.
Lee Gon, begins a journey to fulfill his duties as a King. He also decides to take down the person who is a traitor.
When it first came out on Netflix India, it was the most popular Korean drama series.
3. Guardian: The Lonely and Great God (2016)
Episodes: 16
Seasons: 1
IMDb Rating: 8.6/10
The story of this melting heart Korean drama series is based on Kim Shin, a Goryeo dynasty's Military General. By framing him as a traitor, the young king kills him. Years after his death, with a sword stuck in his chest, he was cursed to remain immortal forever. As a punishment for the soldiers he killed, he suffers the pain of seeing his loved ones die while he lives on. He helps people with his power and is known as the Goblin. The only way to end his life is to remove the sword he has stuck in his chest.
It will be interesting to watch whether the Goblin finds a way to get rid of his painful punishment or not. To find out, stream the Guardian Korean Drama web series on Netflix. You can also watch this Korean web series in Hindi dubbed online for free with the name Goblin on MX Player.
2. It's Okay to not be Okay (2020)
Episodes: 16
Seasons: 1
IMDb Rating: 8.7/10
This Korean web series follows the story of a man Moon Gang-tae who works as a caretaker in a psychiatric ward and lives with Moon Sang-tae, his older brother who is autistic.
And of a woman, Ko Moon-young who is a famous writer of children's books, but she is extremely selfish and rude with antisocial behavior. After meeting one another, they slowly begin to fall in love after finding out that their pasts overlap.
The story also exposes the truth about their pasts, which are affecting their lives.
This Korean romantic drama series is one of the highest IMDb rating of 8.7 out of 10.
1. Crash landing on you (2019)
Episodes: 16
Seasons: 1
IMDb Rating: 8.7/10
In this series, a beautiful love story has been shown which is very addictive and has a lot of heartwarming gestures. The story follows Yoon Se-Ri, a successful businesswoman in South Korea. One day while paragliding, accidentally crash-lands in the North Korea due to a sudden storm.
There, she meets army officer of North Korea, Ri Jung Hyuk who decides to protect her and help her return to South Korea Despite the tension dispute between their respective countries. After initial denial, both of them start falling in love for one another.
This is the 3rd highest rated South Korean romantic drama cable television history of Korea. Each episode of the show concluded on a suspenseful cliffhanger that left you wanting more.
Final Thoughts on 10 Best Romantic Korean Dramas
So, above you got the 10 best Korean romantic drama web series Hindi dubbed on Netflix and MX Player. These Hindi dubbed Korean drama list are also the high rated IMDb web series available on Netflix.
We hope that you will enjoy this whole K-drama collection.
Visit Superfilmi frequently to get the most popular content to watch during your leisure time. You can also take an eye on the other genres based Hindi dubbed web series list below.
If you're looking for an ideal love story based Korean web series, then this list is perfect for you. Please go & watch all these web series and tell me your point of view in the comment section.