5 Best Romantic Web Series Hindi Dubbed on Netflix
Are you unable to find the top English Romantic web series that is available in Hindi dub? In this case, we can help. In this article, we provide you the list of best romantic shows available in both Hindi and English languages.
This article is mainly for those web series lovers who are not very much comfortable in watching web series in English and want to watch in Hindi dubbed. But finding the best web series on Netflix in Hindi dubbed is a tedious task. As such, most users go on to watch whatever shows that come in first while searching.
Top 5 Hindi Dubbed Romantic Web Series on Netflix
Here our role comes into play; at Superfilmi, we offer you an impressive list of Hindi dubbed Romantic web series on Netflix. Either you'll fall in love with these romantic series or you will end up remembering your forgotten love.
Here is the list of Best Romantic web Series on Netflix Hindi Dubbed to spend your free time watching the best available content.
Top 5 Romantic Web Series List Hindi Dubbed on Netflix
5. Emily in Paris (2020)
Episodes: 10
Seasons: 1
IMDb Rating: 7.0/10
The story of the series follows Emily, a 20 years young girl from Chicago who got her dream job in Paris after being hired by a big French marketing company, "Savoir" to give them an American perspective on things. There, she struggles to be successful in her job while facing a cultural difference due to her American upbringing/background. She tries to adjust to the challenges in her life while juggling her career and also struggles in searching for love as well as new friends in Paris.
4. Bridgerton (2020)
Episodes: 8
Seasons: 1
IMDb Rating: 7.3/10
This period romantic drama set in 1813 in London, revolves around the eight siblings of the powerful Bridgerton family. In this romantic web series, the eldest daughter of the family has to participate in a special traditional function of Regency London in the search for her perfect life partner. As every year, many boys and girls debut in that concert to find their life partner.
This series is based on Julia Quinn's eight romantic novels with the same name. Each story of the novel is based on a single sibling of the Bridgerton family.
3. Virgin River (2019)
Episodes: 10
Seasons: 3
IMDb Rating: 7.4/10
This show follows the story of a nurse Melinda. After the death of her husband, she wants to forget her past and start a new life. And for this, she goes to the remote Northern California town of Virgin River for the job of a midwife and Nurse practitioner. There she meets Jack, an ex-Marine who happens to be the owner of a local bar. After that, what twists and turns come in the show? You should enjoy watching this romantic web series.
2. You Me Her (2016)
Episodes: 10
Seasons: 5
IMDb Rating: 7.0/10
This is a Rom-Com web series about a couple, Jack and Emma, whose sex life is not going that well. To improve their relationship and sex life, Jack hires an escort, "Izzy". In the beginning, it is only for the financial gain, but going forward, things develop in such a way that due to which, a genuine and romantic connection is built between these three as the couple starts to fall in love with Izzy, who also starts feeling the same way towards the couple.
So, you will have to watch this series to know what happens next with them.
1. Dash & Lily (2020)
Episodes: 8
Seasons: 1
IMDb Rating: 7.5/10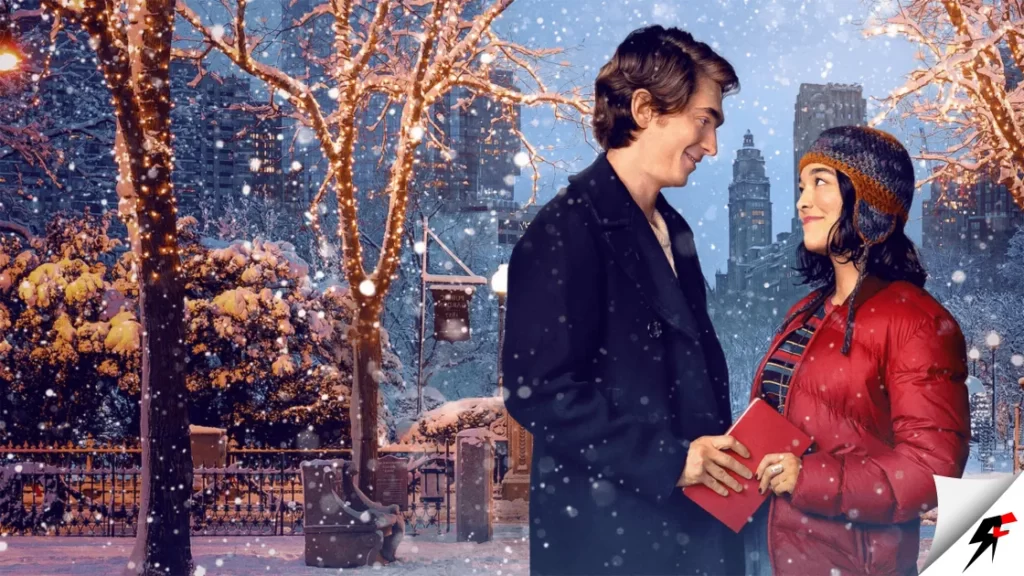 This is a Christmas Rom-Com show which focuses on the Dash and Lily. Lily likes the Christmas festival but this time all of her family members went on a holiday due to which she has to stay alone at home. To overcome her loneliness, her brother gives her an idea. According to that, she writes some dares in a diary and leaves it in a library.
Dash gets that diary, completes all of her dares and also writes some dares for her. Unaware of each other, these two keep giving each other dares and slowly, both of them start loving each other. You have to watch this series to know what happens next.
As per our rating, this series is the best from the entire romantic web series list.
Final Thoughts
So, there you got the top 5 romantic Hindi dubbed web series on Netflix. You can watch these series in both Hindi and English languages. Also, all these Netflix web series that we've collected are high rated IMDb web series.
We hope you'll love this entire web series list.
Visit Superfilmi regularly so that you'll get the best available content to enjoy in your free time and you can also have a look at our other genres list of Hindi dubbed web series on Netflix.