5 Best Marvel's Superhero Web Series on Netflix
We all love Marvel, especially their action-packed stories that make us feel that warm feeling in our stomach. We've curated a list of the most top-rated marvel superhero web series on Netflix. Ready your popcorns cause you will be diving deep into binge hours.
Marvel Cinematic Universe decided to launch its first TV series, Agent of shield TV series, in 2013 and after the success, marvel decided to launch a few more superhero web series on Netflix; Daredevil in April 2015, just followed by Jessica Jones in November 2015. After the growth index, MCU decided to launch a new phase 3 in 2016, which was filled with a lot of TV series and their sequels; Daredevil, followed by Luke Cage soon after Iron Fist, The Defenders and a month later, The Punisher.
You may also like to read:
Top 5 Superhero Web Series on Netflix | Marvel Web Series in Hindi Dubbed
We know everyone loves to watch Marvel web series and movies sequences like actors getting into fistfights, playing with guns and bullet fires, that's why we bring you the 5 best Superhero web series that are currently streaming on Netflix.
The below list is for those Superfilmies who want to watch the best Superhero action TV series in Hindi dubbed with lots of thrilling action scenes. In this Marvel web series list, we've also included a few series which are available in Hindi language.
Let's look at the Netflix's top 5 Superhero action series Hindi dubbed list.
Top 5 Marvel Web Series List
5. Jessica Jones (2015)
Episodes: 13
Seasons: 3
IMDb Rating: 7.9/10
This series is based on Marvel's comic character, Jessica Johns, a young woman with superhuman powers whose career as a superhero ends very early because of some tragedy in her life.
So she comes to New York City & there starts her detective agency. There, she got the cases of people who have special powers.
Her main concern is not to save the world but to save her house & pay her bills. This superhero web series is based on a graphic novel and also available in Hindi dub.
4. Luke Cage (2016)
Episodes: 13
Seasons: 2
IMDb Rating: 7.3/10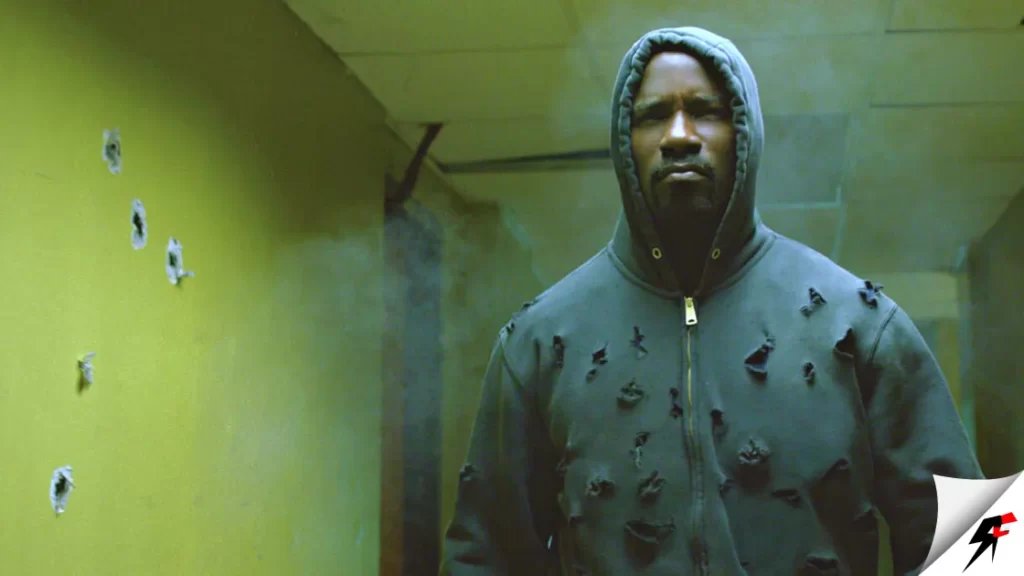 The story revolves around Luke Cage, who got indestructible skin and great physical strength after a sabotaged experiment performed on him. By the time he finds himself fighting with hard-hearted criminals and corrupt government officials to protect his hometown, Harlem, New York.
Luke cage stands out as a savior of his African-American community that struggles to thrive in the developed world. Their illiteracy compels them to choose the path of committing the crime. Luke Cage is on a mission to bring them back and give them a good life.
Overall this series will not only fascinate you but also touch your heart. You can watch this superhero web series in Hindi dub on Netflix.
3. The Defenders (2017)
Episodes: 8
Seasons: 1
IMDb Rating: 7.3/10
The Defenders is a mini superhero web series that includes full of drama & action. The Defenders series is based on 4 characters of MCU (Marvel Cinematic Universe). It includes 4 solitary figures; Daredevil, Iron Fist, Luke Cage and Jessica Jones, who realize they just might be stronger if they team up together to fight against a common enemy named "The Hand" to save New York City.
The Defenders series is set after a few months of Daredevil Season 2 & one month after Iron Fist Season 1. This series is a complete package from MCU with 4 superheroes that fight against a dangerous villain as a team. You'll definitely like this series if you have watched any of their individual shows.
2. Daredevil (2015)
Episodes: 13
Seasons: 3
IMDb Rating: 8.6/10
In Marvel's Daredevil show, "Matt Murdock" (Daredevil) who is blinded and fights injustice in the day as a lawyer and in the night as a Superhero Daredevil against the crime lord "Wilson Fisk" in Hell's Kitchen, New York City.
He was blinded in an accident by a chemical spill in his eyes in his child age. This accident gave him superhuman senses that enabled him to see the world in a strange and powerful way Instead of limiting him.
You can enjoy all seasons of this fantastic Marvel web series in Hindi dub.
1. The Punisher (2017)
Episodes: 13
Seasons: 2
IMDb Rating: 8.5/10
This Netflix web series set in the MCU character from the comics with the same name.
After taking revenge to those who killed Frank Castle's wife and children, he uncovers a big conspiracy that runs far deeper than the criminal underworld of New York. Now he was known as "The Punisher" throughout New York City, he must need to find the truth about injustices that affect more than his family alone.
As a spin-off of Marvel's Daredevil, Frank Castle's character first appears in season 2 of the Daredevil series and was begun in Jan 2016, before the Daredevil's 2nd season was released.
Final Thoughts
So, there you have the 5 Best Superhero web series Hindi dubbed on Netflix. The above action series list is ranked & based on our personal experience.
All of these are the Top 5 Superhero action web series and also the high rated IMDb web series.
There is another best series from Marvel, "Agent of shield" which we've not included in our list but you can definitely check that out.
Beyond this Marvel web series list you can checkout "Iron Fist" TV series if you're a hard core Marvel's fan otherwise leave it and enjoy the above listed web series.
Don't forget to push the notifications button on for the best Netflix web series recommendations in the future.
Superhero Web Series
Best Superhero Web Series
Superhero Web Series in Hindi
Superhero Web Series on Netflix
Marvel Web Series List
Marvel Web Series
Marvel Web Series in Hindi
Marvel Hindi Dubbed Web Series