5 Best Action Web Series Hindi Dubbed on Netflix
Netflix has a great collection of both older and latest web series as lots of new web series released every year and there is no wonder that Netflix is the most popular OTT platform in the world with millions of subscribers.
Netflix made it possible for users of any genre to watch movies and web series which suit their tastes, whether it is action, crime, thriller, comedy, fantasy and sci-fi etc.
You may also like to read:
We know it's fun to watch action series sequences like actors play with swords, get into fistfights, play with guns and bullet fires, that's why we bring you the 5 best action web series Hindi dubbed that are currently streaming on Netflix.
Top 5 Hindi Dubbed Action Web Series on Netflix
This list is for those Superfilmies who are looking for the best action TV series in Hindi dubbed with high impact action scenes with lots of thrills and spills.
Let's look at the top 5 action series Hindi dubbed list that Netflix has to offer.
Top 5 Action Series Hindi Dubbed Netflix List
5. Happy! (2017)
Episodes: 8
Seasons: 2
IMDb Rating: 8.2/10
Happy! is a comedy and action drama web series and is about an ex-cop Nick Sax, who is now a Hitman. After sustaining a severe heart attack, Sax meets Happy, a little blue flying unicorn who can only be seen by him. Happy claims that he is the imaginary friend of Hailey, a little girl who is in big trouble as she has been kidnapped by a man dressed as Santa Claus ("Bad Santa").
Happy also tell Nick that Hailey is his estranged daughter. After this, Nick reluctantly agrees to Happy and both start to find and save Hailey.
Their discovery slowly begins to uncover a massive, global conspiracy involving child abuse, sexual worship, the existence of aliens and ancient Gods.
4. Jessica Jones (2015)
Episodes: 13
Seasons: 3
IMDb Rating: 7.9/10
This series is based on Marvel's comic character, Jessica Johns, a young woman with superhuman strength whose career as a superhero ends very soon due to some tragedy that happens in her life.
That's why she comes to New York and starts her own detective agency. At there, she got such cases which related to the people with the special powers.
Her main priority is not to save the world but to save her apartment and cover her expenses. This is not just a typical children's superhero web series. This series is based on a graphic novel and best suit for adults.
3. Cobra Kai (2018)
Episodes: 10
Seasons: 3
IMDb Rating: 8.6/10
Cobra Kai season 1 was released on YouTube Original but due to its popularity Netflix picked it up, so now you can watch all the three seasons full of martial art actions on Netflix. You'll definitely go to the nostalgia during this series if you've watched the Original Karate Kid movie.
Cobra Kai is a comedy-drama Martial Arts web series which is based on the original Karate Kid movie. This series is about what happened between Johnny Lawrence and Daniel Larusso over the 30 years after the original movie.
The Cobra Kai dojo has reopened now, a new class of karate kids has entered the martial arts world and the old rivalries are rehashed.
Get ready for the next installment as the Cobra Kai season 4 is coming on 31st December 2021.
2. The Witcher (2019)
Episodes: 8
Seasons: 1
IMDb Rating: 8.2/10
This is a fantasy web series with a lot of action and erotic scenes in which Henry Cavill (who also plays Superman), as Geralt, is a Witcher, also known as monster hunters. He hunts drinks, other stuff, lots of potions and carries out the contractual killing of many monsters.
But humans don't like him infact hate him as like monsters; he kills. But at some point in his life, he has to get involved in the human world as he has no other option where he struggles to find his place in the human world.
Also read: 5 Best Fantasy Web Series Hindi Dubbed on Netflix
This web series stand out against many other Netflix action web series with an amazing IMDB rating of 8.2 out of 10.
1. Money Heist 5 Volume 1 (2021)
Episodes: 5
Seasons: 5
IMDb Rating: 8.2/10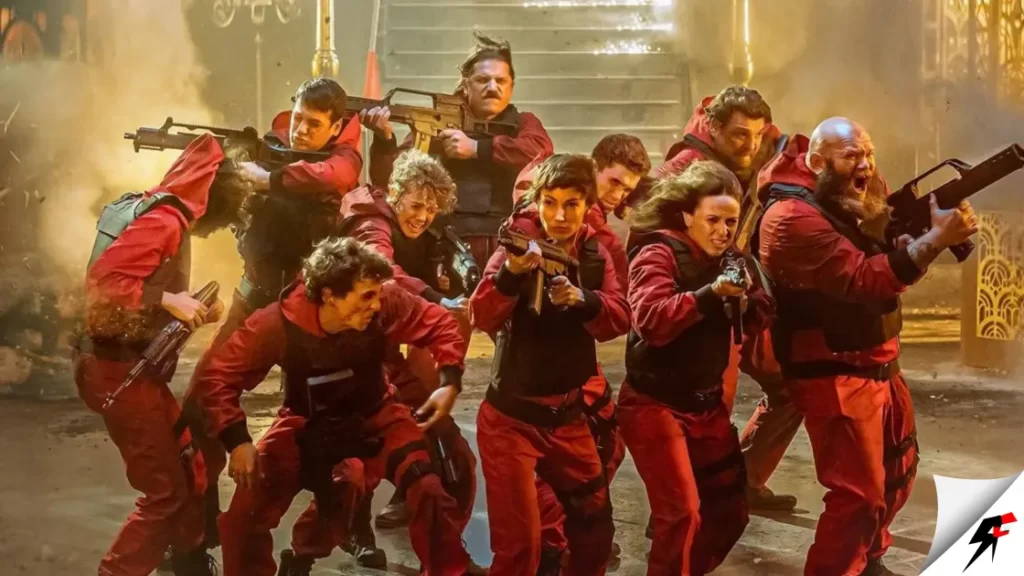 In Money Heist season 4, you've watched that, Professor's gang has been shut for over 100 hours in the Bank of Spain. They have rescued Lisbon but lose one of their gang members. Sierra, who captured the Professor, is now joined with him.
The Spanish Army's Special Forces which led by Gandia (who killed Nairobi) and Sagasta, enter the bank from the rooftop and start firing. Due to which a war happened between the gang and Spanish Army with machine guns, time bombs, grenades and other deadly weapons.
This is not just the end of this story; prepare yourself for the next and final part of the greatest heist in Spanish history as the Money Heist season 5 volume 2 will be released on 3rd December 2021.
Final Thoughts
So, there you have the top 5 Action Hindi dubbed web series on Netflix. The above action series list is based & ranked on our personal experience.
All of these are the 5 best action web series and also the high rated IMDb web series. This best Netflix Hindi dubbed web series list includes both Netflix originals & series that originated elsewhere.
Don't forget to push the notifications on for the latest and best Netflix web series recommendations in the future.
I hope you'll like our work and if you have any suggestions related to action series that we haven't included in our list, then please write them down in the comment section.